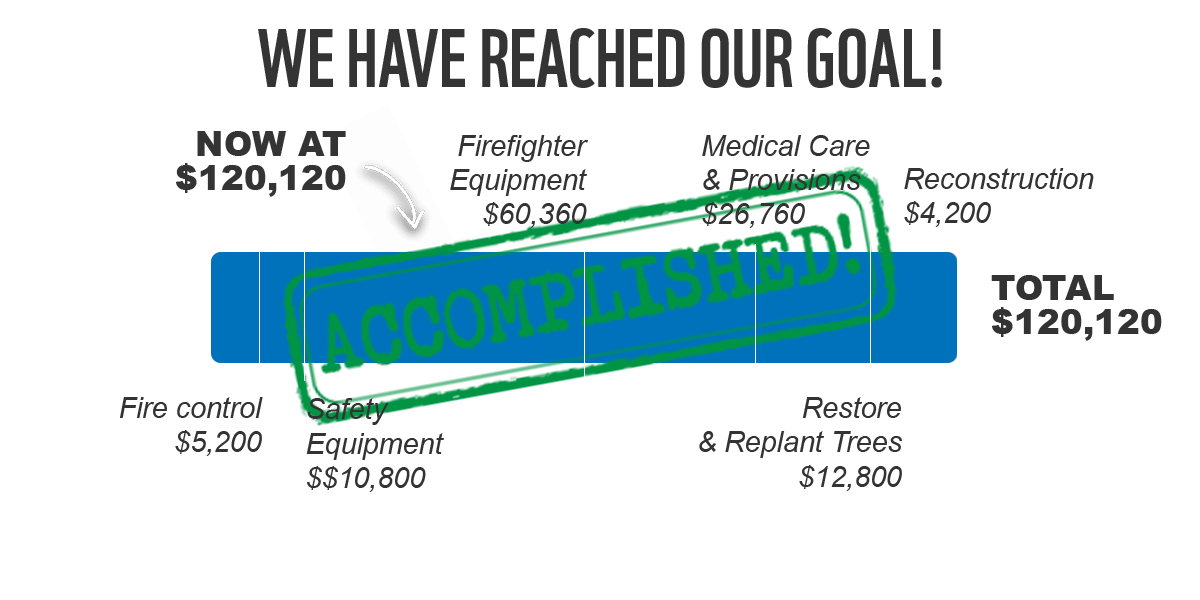 YOU HELPED US RESTORE THE FOREST IN SUMATRA!
A massive fire covering about 4,200 hectares of land had broken out at Tesso Nilo in Riau.
| | "My name is Erwin Daulay, one of the firefighters who helped put out the fires in Riau. It has been tough on us, and I just wanted to thank you for your generosity in providing us with what we need. It rained last week and it gave us some needed respite during this extremely dry season. But our fight is not over! Fires are starting in other areas of Sumatra. We need to remain vigilant and be better equipped." |
| --- | --- |
HOW YOU HELPED:
We needed equipment before 6 September to stop the fire and protect local communities and Sumatran wildlife from being impacted. 
You helped put out the fire.

$5,200 for fire control ✔ Achieved
$10,800 for safety equipment ✔ Achieved
$60,360 for firefighting equipment ✔ Achieved

---
You helped us restore and replant trees.

$12,800 to restore and replant trees. ✔ Achieved

---
You helped provide medical care and provisions.

$26,760 for medical care and essential provisions for firefighters and critical wildlife species. ✔ Achieved
---
You helped for future reconstruction.

$4,200 for reconstruction of damaged facilities and infrastructure. ✔ Achieved
WATCH VIDEO: Drone footage of the fire sweeping across the Tesso Nilo landscape
Controlling the fire requires a lot of work and our field team of 28 people and 12 volunteers need your help urgently to extinguish the fire, rewet and most importantly restore the 200 hectares of forest that were lost.
Please know that this is critical to reduce the impact made in the nearby communities and protect iconic Sumatran wildlife including an estimated 113 to 180 wild Asian elephants and two Sumatran tigers.
READ MORE: See the full timeline of the fire situation in Tesso Nilo